CLOUD FIREWALL
The workforce is now distributed and mobile, and the number of applications leaving the confines of the data center for the cloud continues to grow. These cloud  applications, including Microsoft Office 365, were designed to be accessed directly via the Internet. To securely embrace cloud apps and services and deliver a fast user experience, Internet traffic needs to be routed locally.
One way to route traffic locally and secure this new world is to deploy stacks of security appliances in every branch office. But this option is simply not viable in terms of the cost and complexity of deploying and managing them all. Traditional firewalls are easily overwhelmed by cloud apps, because they cannot scale to support the high volume of long-lived connections the apps create, and they cannot handle SSL-encrypted traffic or non-standard ports and protocols. Because of these challenges, organizations are increasingly turning to SD-WAN to establish local Internet breakouts. But, these local breakouts need to be secured.
CHALLENGES:
Cost prohibitive to deploy
Untenable to manage
Compromises branch security
Creates appliance sprawl
Performance degrades with SSL insection and cloud apps with long-lived connections
OUR SOLUTION:
Zscaler Cloud Firewall brings next-gen firewall controls and advanced security to all users in all locations — for all ports and protocols. Zscaler enables fast and secure local Internet breakouts and, because it's 100 percent in the cloud, there's no hardware to buy, deploy, or manage.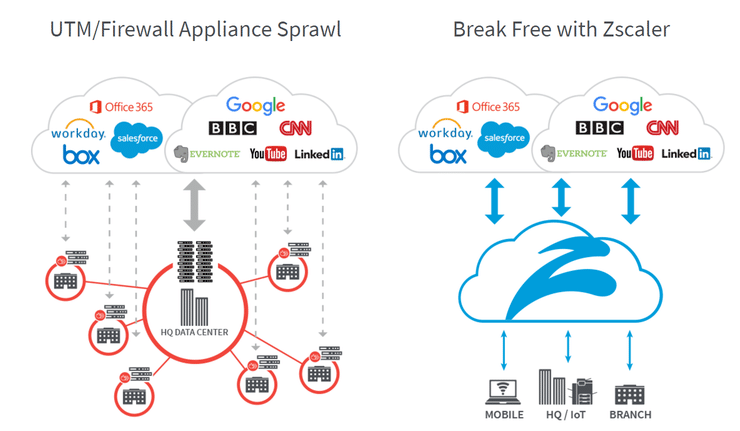 Securing local Internet breakouts — without backhauling and without duplicating the security appliance stack at each location — is a critical component of Zscaler Cloud Firewall. Zscaler allows Internet traffic to be routed locally and securely for all ports and protocols. With Zscaler, policies are not tied to a physical location; instead, they follow the users to provide identical protection no matter where they connect. And since Zscaler is a 100 percent cloud-delivered service — part of a global multi-tenant cloud security platform — there is no hardware or software to deploy or manage.
Simply route Internet-bound traffic to Zscaler Cloud Firewall and it immediately begins inspecting all traffic — all ports and protocols — scaling to handle SSL inspection and cloud application traffic with long-lived connections.
Zscaler Cloud Firewall logs every session to provide visibility across all users and all locations in less than a minute, ensuring you have access to the information you need, exactly when you need it. Zscaler addresses your performance and security needs in the branch today, supports your move to cloud applications like Office 365, and scales elastically as your business needs grow.
NEXT-GEN FIREWALL CAPABILITIES WITHOUT THE HARDWARE HEADACHES
Stateful firewall policies — Apply allow/block security policy based on source and destination IP address, ports, and protocols
Standard NGFW policies — Apply granular allow/block security policies based on applications using a Deep Packet Inspection (DPI) engine
Context-aware policies — Apply access and security policy based on user identity, group, and location – (truly tied to the user)
Application usage visibility — Get real-time visibility into traffic usage, threats, and applications by users, groups, and locations, in few clicks
Fully integrated security services — Contextual information is shared across services to provide better protection and deeper visibility
Cloud effect — Every time a new threat is identified in any of the 40 billion requests processed daily by our cloud, it gets blocked for all cloud users

BENEFITS:
REDUCE COSTS AND COMPLEXITY:
Enable secure local Internet breakouts for all ports and all protocols without any appliances to deploy or manage
Reduce MPLS backhauling costs
Eliminate the need for costly and time-consuming patch management, coordination of outage windows, and policy management
IMPROVE SECURITY AND PERFORMANCE:
Route Internet traffic locally to enable a fast user experience
Provide security and access controls for Internet traffic on all ports, not just 80 and 443, to prevent advanced threats
Deliver full, dynamic inspection of HTTP traffic traversing non-standard ports
Fully proxy all DNS traffic to protect against vulnerabilities such as DNS cache poisoning
BENEFIT FROM THE CLOUD EFFECT:
Bring the entire security stack close to the user, ensuring identical protection for users from wherever they connect
Scale services elastically to handle SSL inspection and cloud application traffic requiring long-lived connections
Log every session for complete visibility into all users, locations, applications, ports, and protocols, in near-real time